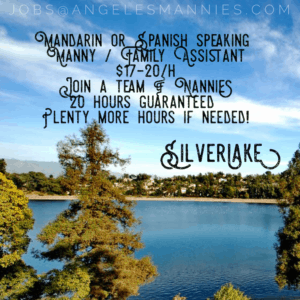 Location: Silverlake, Los Angeles
Schedule: Part-Time,Guaranteed 15 hours over two days per week; 1-8PM with weekend flexibility required
Children: 2 girls and 1 boy ranging between 2-3 years in age. The family currently employees two nannies, and this position would work in tandem with them, along with the parents
Responsibilities: Fluency is either Mandarin or Spanish is required for this part time position with a great family. School pickups, monitoring playtime, meal preparation, and facilitating activities make up the bulk of this role. With two nannies and the parents around often, you'll never be alone with all 3 kids. Ability and willingness to help out with errands, such as grocery shopping and scheduling is also a great plus.
Salary: $17-$20/hour
Please apply with your formatted resume, any letters of recommendation, references, and certifications. All applicable nannies will be contacted. Thank you for your time and hope to hear from you soon!
Register here or if already registered, show interest by emailing jobs@angelesmannies.com
Caregiver must be aged 21+
Caregiver must be Fluent in English and Spanish / Mandarin
Caregiver must be able to drive and have own vehicle
Caregiver must be a US Citizen or Legal Resident
Caregiver must have infant experience
Caregiver must have outstanding references
Caregiver must be willing to complete TrustLine Registration upon hire
Caregiver must have a clean criminal record and motor vehicle record
Caregiver must hold a current CPR, First Aid/AED Certificate (or complete upon hire)