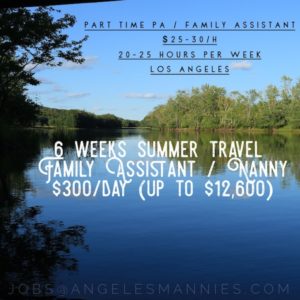 Part Time Family Assistant / PA with FULL TIME Summer travel
$25-30 Gross (~$20-25/h take home)
20-25 hours per week (when part time)
$300/day for 6 weeks of travel (up to $12,600)
A family off Laurel Canyon is looking for an extra set of hands to join them. Somebody active, hardworking, fun, tenacious, autonomous, proactive and enthusiastic is key, this family is a fantastic fit for a kind, genuine, professional person. 
*THIS WOULD BE PERFECT FOR A STUDENT / RECENT GRAD WITH A FLEXIBLE SCHEDULE*
This position is better viewed in 2 sections, to ensure you can commit to all
1 – Part Time Family Assistant / PA | $25-30 Gross | 20-25 hours per week |
Family Assistant is flexible and can help with the family's schedules, must love what they do! Family has 2 Full-Time Housekeepers but you would be required to help where needed. Flexibility is good, possibly staying a little later or coming in earlier to accommodate schedules. The best fit for this family is an intelligent problem solver and excellent communicator, tech-savviness is key. Someone who doesn't bring drama into the house and has a can-do attitude. High-profile experience and knowledge is important, as discretion and confidentiality is key when dealing with the families personal records.
Some responsibilities include –
– Schedule doctors appointments
– Do post office runs and organize shipping returns
– Keep cars washed and fueled
– Grocery shopping when required
– Create filing systems for personal records
– Coordinate / collate paperwork for tax accountants
– Gift shopping and wrapping when requested
– Help with party planning
– Coordinate and book family travel
– Open bills and prep for payment
– Organize household maintenance appointments and oversee 
– Walk Dogs
– Creating a maintenance schedule for window cleaning, HVAC 
maintenance, etc.
– Ensure all schedules are conveyed and vendors cancelled 
when family is traveling
– Occasional pick up of kids from school / take to after school 
activities.
***The hours will be roughly 3pm-7/8pm 3-4 days a week AND 6-8 hours on a Sunday***
2. 6 Weeks Summer Travel!
The last 2 weeks of June and all of July you must be able to travel domestically with the family. The family will be traveling and spending the majority of their time in Washington DC, New York City and the Hamptons.
Caregiver must be aged 21+
Caregiver must be Fluent in English
Caregiver must be able to make at least a 1-year commitment to the family
Caregiver must be able to drive
Caregiver must be legally authorized to work in the USA
Caregiver must have outstanding references
Caregiver must have a clean criminal record and motor vehicle record
Caregiver must hold a current CPR, First Aid/AED Certificate (or complete upon hire)
Caregiver must have child care and assistant experience
Please apply with your resume, any letters of recommendation, references, and certifications. All applicable nannies will be contacted. Thank you for your time and hope to hear from you soon!
jobs@angelesmannies.com
Register here