Nanny Video Interview Tips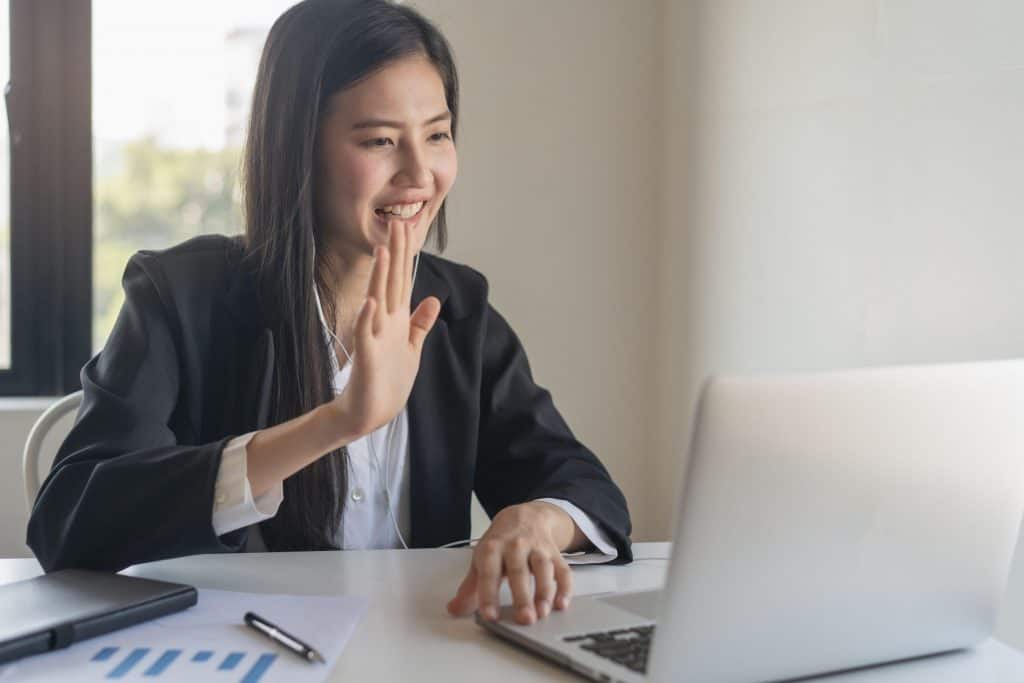 Everyone knows that interviews are your window into the job of your dreams, but what happens if that window is Google Chrome and the interview is a video? More and more busy families are moving towards video calls to interview nannies. Even the most tech savvy individual can have reservations about participating in a video interview, which is why we've compiled a list of tips to help you get through the monitor and into your next nanny home.
Background
When prepping for your nanny video interview, find a quiet, well-lit room away from any distractions. Make sure your webcam frame is set up against a neutral background to ensure that you will have your interviewer's full attention. Take steps to ensure that you will not be interrupted by family, roommates or pets. You don't want to lose your train of thought while cataloging your nanny experience during the interview, and you want to impress interviewers with your ability to prepare. Don't be this man (and after you're hired, don't be the nanny that let this happen!):
Tools
Don't sign up for your childcare video interview only to realize two minutes before you're supposed to start that you don't have the necessary tools. Generally, you will need a computer or tablet with a built in microphone and webcam, headphones with a microphone and internet connection with bandwidth at least 1 megabits per second. If you are missing any of these, check out the resources at your local library, ask a friend or rent equipment. To ensure optimal internet speed, clear your history and empty caches. Closing unnecessary windows or applications is also a big help to boost your connection. You don't want to be lagging or pixelated during your nanny video interview.
Dress Professionally
There is a novelty of interviewing from the comfort of your own home, but this isn't something you should abuse. You may have the urge to wear sweatpants with your blazer, who would be able to tell? But if you feel professional you will act professional, and you never know if you will need to stand up at any point. Shy away from bold colors or prints as they can be distracting or even glitchy depending on the connection. Once you are hired it may be acceptable for you to dress in athleisure (or even a full on smock to avoid juice stains and pasta ricochet) but during your interview it's best to present yourself in the best light and dress well.
Body Language
Act as you would if you were in the room with your nanny interviewers. When you're listening be sure to engage with them, maintain eye contact and nod when listening. Just because you are not in the same room does not mean that all social graces fly away, they can still see you and will take note if you act disinterested or distracted. If you talk with your hands, do that! If you are hyper aware of your movements,you won't be able to be fully present and explain why you would be the best fit for their nanny. Just be yourself! Your body language should stay the same even though you are on camera.
Troubleshooting
Before the day of the interview, be sure to ask for a number to call in case you have any technical difficulties or unforeseen issues. You don't want the family to think you just didn't show up.
Video interviews are becoming increasingly popular with families looking to hire a nanny. Be ahead of the curve and be prepared to interview virtually by setting the scene, gathering all of the necessary tools, dressing professionally, maintaining body language, and covering your bases by troubleshooting any issues. If you have any further questions or would like specific advice and training in video interviewing, let us know! We'd be happy to provide a mock interview and help you find your next nanny family.
It is well within your nanny's responsibility to feed your child at appropriate and necessary times during their scheduled shift. A nanny may prepare multiple meals and snacks for your child throughout their working day. The grey area begins however, when the nanny is asked to cook for your whole family. It is one thing to request that a nanny prep for your dinner while a child is at school or napping, but if a nanny is forced into the responsibility of preparing and cooking for a family of four while also assisting the child with their homework, it is easy to imagine that the immediacy of the meal takes precedence and the homework suffers. The nanny is there first and foremost to assist in the development and rearing of the child, and if cooking takes away from that responsibility, then it should be forgone.
Many families ask their nanny to engage in light housekeeping. This is completely acceptable when the duties are related to the child. Sanitizing and organizing toys, tidying and disinfecting the high chair and surrounding areas, loading the dishwasher after snack and meal time, restocking and cleaning the changing table, and even the child's laundry are all things that are reasonable and even encouraged to ask your nanny to do. Having your nanny tidy your child's room with your child present is a great way to teach your child by example the importance of organization and cleanliness. Most light cleaning tasks regarding the child can be done during your child's nap or while they are at school. It is important to reiterate that any cleaning that takes away from your caregiver's ability to nurture and comfort your child to the best of their ability should not be asked of them.
When thinking about the job duties you wish to ask your nanny to accomplish, it is imperative that you ask yourself whether or not that duty will contribute to or detract from their ability to care for your child. 
Issues arise around the job duties when expectations are not made clear from the get-go. Many nannies expect and even welcome the task of doing the child's laundry, as folding warm, clean clothes while the child is napping is sometimes considered a cherished repreve. However, the idea of washing their employer's underwear can make some nannies, extremely uncomfortable. The addition of expensive clothing that needs extra precautions during the washing process can add unnecessary stress and time to the nanny's day as well. It is one thing if you are in a pinch and ask your nanny if they are comfortable doing a load of your own laundry, it is different to consistently throw in your washing without having had a clear discussion beforehand. There are many simple and cost efficient ways to get one's laundry done.
A nanny is a childcare provider, not a dog-walker or cat-medicine-administrator. If a nanny has to be thinking about the dog's needs while a child is having a tantrum, it can be difficult for the nanny to give the child the full attention and care that they need while the dog is endangering a priceless rug or a corner of the couch. Letting the dog out in the backyard or refilling it's water is one thing, but asking a nanny to groom is not within their job title. Some nannies may be allergic to pets or even have a fear of animals. It is important to discuss your pet care needs with your nanny prior to starting so that everyone can be on the same page.
Many domestic issues can be sorted out simply by having a clear discussion about expectations upon hiring. Ask your nanny during the interview process what they are comfortable with and what their domestic strengths are. If you lay out the expectations from the get-go, it will greatly avoid any awkwardness or resentment down the road.