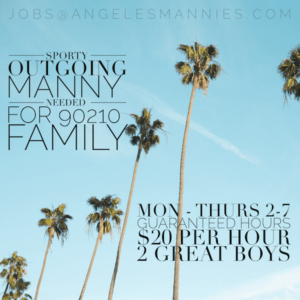 90210 Family Seeking Outgoing and Energetic Weekday Manny!
A kind family in the Beverly Hills area seek a responsible and proactive manny to add to their busy home. The super manny would care for, motivate, and inspire these two boys, both aged 5 and 3.5.
The position requires mainly weekday afternoons (2-7, with opportunities for overtime and weekends if so desired. A total of 20 hours weekly would be guaranteed to start with, and ability to help out during Spring and Summer breaks would be ideal.
A typical day would be picking up the boys from school on the West Side, and hanging at a park or at home, all the while keeping them stimulated with educational and fun activities. Someone energetic and creative will thrive in this position – their mom would like to see them be challenged and motivated with new adventures that will require them to use their minds and bodies actively. A background in athletics or someone sporty who can lead all kinds of games, sports, tree climbing, swings, hiking, building activities, and anything else involving getting their hands dirty and keeping the boredom at bay is ideal. The manny should, in addition to facilitating the fun, be confident and unafraid to lay down the law when necessary.
Pay is $20, and you would be reimbursed for car mileage as well (must have car and clean driving record).
This is a fantastic opportunity with a great family and it won't be open long – their current staff has been with them for years and is for all intents and purposes, considered part of the family!
Caregiver must be aged 21+
Caregiver must be Fluent in English
Caregiver must be able to drive
Caregiver must be a US Citizen or Legal Resident
Caregiver must have outstanding references
Caregiver must be willing to complete TrustLine Registration upon hire
Caregiver must have a clean criminal record and motor vehicle record
Caregiver must hold a current CPR, First Aid/AED Certificate (or complete upon hire)
Caregiver must have professional child care experience, either private or in a camp / coaching role.
Caregiver must be willing to format resume to the template provided