At Los Angeles Nannies, our success in matching nannies and families comes from our passion to see children thrive emotionally, socially, academically and developmentally. We know that raising a child takes a village and we want to offer our services not just in placements, but in every step of a child's life. Our blog is our love letter to nannies and families who strive to provide loving, safe, and nurturing environments for children. A happy nanny is a happy family and a happy family is a healthy, happy, thriving child. 

Los Angeles Nannies Blog topics range from tips in job hunting, communication, childcare, and inspiration for activities, to the difficult topics like how to ask for a raise, dealing with legal matters such as payroll, hiring and firing, and taxes. If you have a question or concern related to child care, but don't see it covered in our blog, contact us! We would be more than happy to assist. We update our blog weekly, so check back to see what new childcare topics we've covered.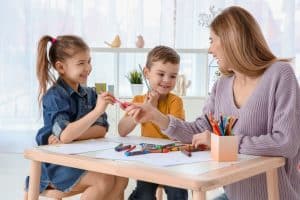 Being a parent
There are many routes to go down to find your perfect nanny, and like your nanny is a unique asset to your family that reflects your household's needs, so too will be the journey to find them.
Read More »