Last month, I had the opportunity to visit Washington DC for the 2016 International Nanny Association Annual Conference. More importantly, I was there to see Helen McCarthy accept the prestigious Nanny Of The Year (NOTY) award!

Taken from the International Nanny Association – "Helen is a Qualified National Nursery Education Board (NNEB) Professional British Nanny with over 24 years' experience as a Nanny, Newborn Care Specialist (NCS) and Childcare Consultant. She has devoted her career to the care of children at all stages of life, with all levels of needs. In 2000 Helen developed an exclusive focus on caring for newborn's. As one of the pre-eminent NCS's she amassed a deep understanding of the needs and development of newborns including premature infants, twins, triplets and babies with allergies and heart defects.
In 2015 Helen returned to nannying after attending the 2014 Nannypalooza conference. Helen now organizes weekly meet-ups, hosts parties for Nannies and their charges. Helen finds great pleasure in baking Birthday cakes for her fellow Nannies charges. This year she has planned London's first National Nanny Training Day and Nanny Night Out. In 2017 she will face her biggest challenge, a 2-day Nanny Conference.'
Now I may be a little biased but I'm not afraid to say that I was happy to see a fellow Brit walk away with the award, and the speech was just fantastic.
Helen has very graciously allowed me to pick out a few pieces from her acceptance speech I wanted to share, 1st off, her take on the ABC's.
In the past 25 years the world has changed dramatically but children are….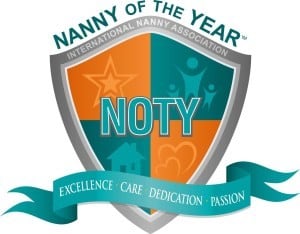 A    AMAZING                     ACKNOWLEDGE THEM
B    BELIEVABLE              TRUST THEM
C    CHILD LIKE                ALLOW THEM
D    DIVINE                         HONOR THEM
E    ENERGIC                     NOURISH THEM
F    FALLIBLE                   EMBRACE THEM
G    GIFTS                           TREASURE THEM
H    HERE NOW               BE WITH THEM
I     INNOCENT                 DELIGHT WITH THEM
J    JOYFUL                       APPRECIATE THEM
K    KIND HEARTED     LEARN FROM THEM
L    LOVEABLE                CHERISH THEM
M    MAGICAL                 FLY WITH THEM
N    NOBLE                        ESTEEM THEM
O    OPEN MINDED       RESPECT THEM
P    PRECIOUS                 VALUE THEM
Q    QUESTIONERS       ENCOURAGE THEM
R    RESOURCEFUL      SUPPORT THEM
S    SPONTANEOUS      ENJOY THEM


T    TALENTED               BELIEVE IN THEM
U    UNIQUE                    AFFIRM THEM
V    VULNERABLE        PROTECT THEM
W   WHOLE                    RECOGNIZE THEM
X    XTRA SPECIAL(!) CELEBRATE THEM
Y    YEARNING              NOTICE THEM
Z    ZANY                          LAUGH WITH THEM.
"……..Having been a Nanny, a Newborn Care Specialist and Childcare consultant I have been fortunate to have a career that is different every day. Being given the responsibility of the most precious blessing a parent has is truly amazing. It is the most rewarding yet challenging but satisfying job anyone could ever have.
My clients have ranged from teachers, lawyers, bankers to Actors from both sides of the pond, a Film Director, Rock musicians, a Record Producer, a Premiership Football owner and a Theatre Producer. Like the children they come in all varieties, but the responsibility for each child remains with the Nanny.
I have been employed by people as far afield as London to Singapore New York to LA LA to New York and all stations in between which makes me a truly International Nanny.
I always said I would only ever work for single children but in 2006 one of my American Clients whose older children were flower girl and page boy at my wedding, delivered twins and that was the being of my multiple experience. Now with 6 twins and 3 sets of triplets I definitely really enjoy a challenge…….."
Helen finished her speech with a quote from one of Britain's most beloved children's authors, Roald Dahl-
"I began to realise how important it was to be an enthusiast in life. If you are interested in something no matter what it is, go at full speed, embrace it with both arms, hug it, love it and above all become passionate about it. Lukewarm is no good"
I felt grateful to have been there with Helen and the rest of the INA board and attendees, and will see you all in 2017, you can read all about the Nanny of The Year Award here