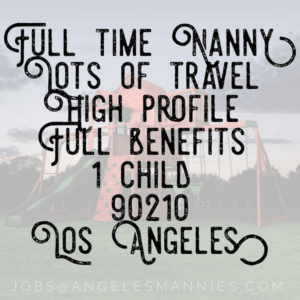 Fun and Energetic Weekday Nanny sought in Beverly Hills!
Nanny
$25-$30/hr
5 days a week (two evenings per week and occasional weekends as needed)
Guaranteed hours
These high profile, hands on parents are seeking an ACTIVE, playful, and energetic ULTRA nanny to care for their 5 year old son. Dad travels quite a bit these days, and mom needs an extra set of hands. That's where this super nanny steps in! The ideal nanny is one who who can facilitate games and sports, and is unafraid to get in on the fun. A nanny who can partake in karate, nerf guns, zombie play (nothing too scary), and the ability to persuade a 5 year old to play outside vs. screen time will be an excellent candidate. Along with the fun stuff, this nanny should also be responsible and patient, with the ability to keep a firm hand when needed. Knowledge of and ability to prepare healthy meals is also required. Aside from light meal prep, the position will be one focused entirely on the child and his activities. That said, physical fitness, along with ability to be discreet and lead by example are highly valued. Must be experienced working with children and high profile families, and a major plus if you know your way around town and are well established in Los Angeles. Only local, experienced applicants with clean driver's license and passport will be considered. This is a fantastic opportunity to contribute to the upbringing of an amazing child during the week!
Caregiver must be aged 21+
Caregiver must be Fluent in English
Caregiver must be able to drive and have own vehicle
Caregiver must be a US Citizen or Legal Resident
Caregiver must have outstanding references
Caregiver must be willing to complete TrustLine Registration upon hire
Caregiver must have a clean criminal record and motor vehicle record
Caregiver must hold a current CPR, First Aid/AED Certificate (or complete upon hire)
Caregiver must have professional child care experience, either private or in a camp / coaching role.
Caregiver must be willing to format resume to the template provided.
Please apply with your formatted resume, any letters of recommendation, references, and certifications. All applicable mannies will be contacted. Thank you for your time and hope to hear from you soon!
Register here or if already registered, email jobs@angelesmannies.com